Pic ur Photo's YC Summer 2019 Application + bonus emails with partners
Company name:
Pic ur Photo
Company url, if any:
Describe your company in 50 characters or less.
The alternative to a personal photographer
What is your company going to make?
Pic ur Photo is a visual photographer booking platform. It's a curation of the best photo locations, where we place photographers in 3-8 hour shifts that are split up and booked out for quick 30 minute minishoots.
The photography industry has barely adapted to the cell phone age. Professional photography is a difficult, expensive process that's generally unattainable on a regular basis. 70% of social media users, LinkedIn Members, and business owners want better photos. That number continues to grow, but alternatives to the traditional model have failed to change materially from what existed 20 years ago.
Pic ur Photo users search for inspiration on the platform. They browse locations, styles, and moods for a look and book a photoshoot in the same location as their favorite photos. Our peeps (aka customers) only pay for the photos they want to keep, and shoots are so fun, people tell us they forget we're even taking pictures.
Where do you live now, and where would the company be based after 
YC

?

(List as City A, Country A / City B, Country B.)

London, UK/London, UK

Please enter the url of a 1 minute unlisted (not private) YouTube or Youku video introducing the founder(s). (Follow the Video Guidelines.)
Please tell us about an interesting project, preferably outside of class or work, that two or more of you created together. Include urls if possible.
Summer of 2015, Christian and I combined our skills (me as a photographer, him as a web developer), walked around the streets of a remote town in Mexico, and pitched to hotel owners in exchange for a place to stay.
This later helped us sustain a life of longterm travel. People kept asking us if we had won the lottery or how we could afford the lifestyle, so we saw the opportunity to turn it into a product: Drop Your Swap (https://dropyourswap.com/–now defunct), which eventually evolved into a skill-swapping platform for "lean" entrepreneurs.
For two years, we traded photography for hotels in North America, Europe, and Southeast Asia. We traded websites for experiences like Scuba Diving lessons/certification, engagement photoshoots, and in 2016, we even traded websites for part of our Swedish Summer wedding.
How long have the founders known one another and how did you meet? Have any of the founders not met in person?
Christian is from SF/Oregon, and I'm from Sweden/Germany. We met in Southern Mexico in the lobby of a backpacking hostel, Summer of 2015. We immediately recognized our complimentary skills: he built my blog, while I took his photos and helped with his website design.
The two of us traveled to new places in the US, before jumping the ocean to Europe. We married in Sweden on the one-year anniversary of the day we met, and continued traveling before settling back in London 2 years ago.
Which category best applies to your company?
Marketplace
How far along are you?
Pic ur Photo is a live, revenue generating startup that has been growing weekly paying customers by an average of 10% per week for the last 4 months.
We have proven that the low entry barrier of £5/photo entices people who had never had a photoshoot before, but that hasn't stopped them from spending: an average customer spends £36 ($50), with many spending in excess of $150, and one person bought 101 photos, stemming from a 30 minute photoshoot.
We've managed to increase users, while also increasing average cart sizes by over 100%, adding new dedicated photographers, and accepting well over 100 more applications from photographers who want to be part of what we're building.
In addition, people have even come asking us to do their weddings, birthdays, and other special events. We've gained our customers' trust, and these events aren't our focus now, but this model is easily transferable.
Our customers totally get it, and they're proud to share us with their friends. We see daily posts of our users tagging us in their photos and short clips from the shoot, of their private gallery, and telling people they want to book every location.
How long have each of you been working on this? How much of that has been full-time? Please explain.
I first came up with the concept in June of 2018, and we've been working on it fulltime for the last 7 months.
Are people using your product?
Yes
How many active users or customers do you have? If you have some particularly valuable customers, who are they? If you're building hardware, how many units have you shipped?
We have over 700 active users, including close to 500 paying customers.
In the few short months we've been active, we've surprised ourselves with the number of repeat customers and recommendations.
If you've applied previously with the same idea, how much progress have you made since the last time you applied? Anything change?
We've relaunched our platform, and opened fulltime availability in various locations around London. We've added new dedicated photographers, and have had more applications from photographers who want to be part of what we're building.
Additionally, we've introduced a commision-based "street team". We've improved our software, data, vetted new hotspots, and tried out the platform in Berlin, San Francisco, and Paris.
We've created jobs for creatives like me. Take our photographer, Paul, for example: musician by passion, with stunning images on his instagram and professional equipment, but holds a normal (boring) job. We've created a platform where we can fund his passion for music, while still doing something he loves. He works for us part time, but has expressed he's ready to quit his other job at the earliest opportunity.
There's a high entry barrier to starting a freelance photography business, so many people like Paul wouldn't bother, but they're perfect candidates, because they're creative and have likeable personalities.
We've collected an enormous amount of information, and we've discovered that photos are changing. People don't want to look like models in their photos (staged), nor do they want to look like blatant tourists, and most photographers cater to one of those two things. They want–and they respond to–photos inspired by real life.
Why did you pick this idea to work on? Do you have domain expertise in this area? How do you know people need what you're making?
1) As a photographer and as someone who worked with photographers, I know the shoot is only a small part of the job, but this idea clicked when I flipped onto the client side and wanted family photos in London: the process took months, paying so much upfront was painful, the interactions were all full of friction, and then it took a whole month to receive our photos. As a photographer, I know why, but as a consumer, it just doesn't work for me.
2) There are thousands of young creatives who love being photographers. Some even do it for free for "exposure", and some get taken advantage of. I want to create a platform for those people to actually make it doing something they love.
3) As most people are working on their social media presence, there's never been a better time to strike with a photo service that anyone can afford.
Christian and I have the perfect combination of skills to bring something like this to market:
– My diploma is in Travel & Tourism and my degree is in Fashion & Business.
– Over 9 years, I've worked with dozens of photographers and hundreds of models as a photographer, a model, and a photographic director–person who designs the photoshoot.
– We've both had photoshoots all around the world, and together, we have roots in 5 countries and speak as many languages.
– Christian has worked in the tech industry for 7 years, specifically focused on data-driven ecommerce software and conversion rate optimization.
What's new about what you're making? What substitutes do people resort to because it doesn't exist yet (or they don't know about it)?
1) Pic ur Photo curates the best hotspots, and the resulting images inspire people. We have customers who have bucket lists of photos they want to get, and others who travel 4 hours to a specific location they saw on our website, or an experience they want to have.
2) There's no pressure on our shoots (price, convenience), so our customers end up with photos that are natural. A customer might travel across the country or squeeze it into a lunch break.
3) Pic ur Photo is the first platform where you can see the result before buying the photos you want (you, you know…pick ur photo). We require a minimal deposit, but that money goes into a user's account as a credit.
4) Pic ur Photo is the first platform where you can see a photo in our content and book that location from within the photo. We do that by predicting and scouting the best photo locations.
5) Photographers set their schedule, and users book. No need for communication about availability, location, portfolio, price…a freelance photographer will typically use 5 different services to run their business (think Squarespace, Dropbox, PayPal, WhatsApp, and other social medias, etc..). Our photographers only use one.
6) The customer doesn't browse different photographers, and there's no complicated signup process. Customers book whatever photographer is scheduled in the location on the day they book. And, we have a closer relationship with our photographers than other platforms, meaning we fill up the entire schedule they want to work.
On competing platforms, photographers don't get enough gigs, get bored, and leave. It might look like an active place, but it's not (usually). All open slots on our platform can be booked and already have a photographer scheduled to handle them.
People resort to using their smartphones. We'll take customers from the more traditional photo services industry too, but roughly 80% of our customers had never hired a professional photographer before. People use their smartphones, because they're convenient and the price is negligible. That's the market we're aiming for.
Who are your competitors, and who might become competitors? Who do you fear most?
Airbnb, Perfocal, freelance photographers, Android/iOS
Airbnb has global appeal and some vendors on Airbnb Experiences have begun offering "location-based photography" and photo tours. We have our own USP's above and beyond what Airbnb photographers are offering, but we believe they're in the best position to compete with us in the tourist industry, which is our most lucrative target.
What do you understand about your business that other companies in it just don't get?
The problem with other platforms (like Snappr):
We're not under the delusion that Pic ur Photo is the only company starting in the photography space, but we believe we'll be the big player in the long run. Those other platforms don't understand that no one wants to pay $59 for 1 Tinder profile image, no one needs to spend 2 hours on a portrait shoot (and *only* end up with portraits), and people feel cheated when they're forced to pay extra for high res images–we know, because we asked them..and our data doesn't lie.
The problem with freelance photographers:
They set minimum booking times, weird rules, like "you get x number of photos or y number of outfit changes," and "social media license vs full license". It's not more difficult or expensive to offer a full license or more photos, so it comes off as disingenuous, especially when they don't get to pick which photos are the ones they get. Frankly, the whole thing confuses customers, and puts them off hiring a photographer to begin with. Photographers can also be quite pompous about their "art", not realizing that their end game may be different than the person who hired them.
Freelancers and platforms set these rules, because they have to earn enough to make it worth their time. There's a lot more that goes into photography than just taking pictures: finding customers, communicating, negotiating, editing photos, & traveling. Imagine traveling 2.5 hours, round-trip across the city for a 1 hour shoot. Photographers do it on a regular basis, and it's crazy. An average photographer only spends about 7% of their time taking photos, while our photographers spend about 70%, and that's why we can charge less while earning more.
Because of all this, would-be customers resort to smartphones. People in the photo services industry have enormously underestimated how important convenience and price have become in the smartphone era, where "good enough" photos are in your pocket.
How do or will you make money? How much could you make?
(We realize you can't know precisely, but give your best estimate.)
Our customers buy photos individually, and they can choose upsells like edits and prints. We make a cut on every photo sold (the photographer makes the rest), and we take 100% of the revenue on upsells.
The global photo services industry is worth about $30B, including $2B in the UK and $10B in the US. But we're not just working for the existing market. Our main offering also appeals to people who would never have considered professional photography prior to being introduced to us.
We aim to sell a total of 1 million photos in our first 2 years of operation, which translates to about £7.3M ($9.5M) in revenue (photos + upsells) for us and our photographers. We see ourselves selling 10 million photos annually once we've expanded to other major cities in 5-6 years.
How will you get users? If your idea is the type that faces a chicken-and-egg problem in the sense that it won't be attractive to users till it has a lot of users (e.g. a marketplace, a dating site, an ad network), how will you overcome that?
We've gained most of our users/paying customers with an Instagram DM campaign. We target specific niches and our name vibrates around the same circles of friends.
Companies will pay hundreds to get in front of even a micro-influencer's audience, but we have paying customers with thousands of followers gladly uploading our photos and spreading the word, thanks to the shareable nature of our product.
We've also just begun holding interviews for something called the street team. Our managed teams will storm the streets of London to fill remaining slots for the week. We've already done this on a trial basis, but we just finished getting the legal ok and building the software to handle logistics and do it in mass.
Our longterm acquisition strategy focuses heavily on content marketing and SEO. People are increasingly looking to social media as inspiration on where to eat, how to dress, where to go, how to frame the perfect photo.
People travel more because of the beauty they see in photos. People dress differently, eat new things, and connect with a lifestyle a photo represents. Instagram and Pinterest are great places for inspiration, but they're lacking in detail needed to create.
There's a desire and a need for information on exactly where and how to take the most awe-inspiring images. We'll partner with content creators in each city we want to launch to become the go-to place to find the content our target audience is searching for, and as soon as they want to be in the photo, we'll be there to catch them with a "negligibly-priced" photosession.
Who writes code, or does other technical work on your product? Was any of it done by a non-founder? Please explain.
Christian is our only developer.
If you had any other ideas you considered applying with, please list them. One may be something we've been waiting for. Often when we fund people it's to do something they list here and not in the main application.
We are 100% fully committed to Pic ur Photo.
Please tell us something surprising or amusing that one of you has discovered.
(The answer need not be related to your project.)
Sometimes, our "bad" shoots end up with the best sales.
We've concluded that people are more willing to pay for experiences than they are photos. When the user scrolls through their gallery, it reminds them of an experience they had. A great time is harder to part with than great pictures. Not that ours aren't great, but we prioritize personality over photography skills. Those skills can be taught, personality is harder
What convinced you to apply to Y Combinator?
We think the environment of YC will give us the best chance of building a strong foundation that will catapult us. Speed is extremely important to Pic ur Photo, as we see a huge potential in the business model, and we know now is the time to strike.
How did you hear about Y Combinator?
Immersing ourselves in YouTube content.
*  *  *
And then that dreaded email came in:
Rejection was always a possibility, but we didn't think for a second that we wouldn't make it to the interview stage. About 3 weeks before the application deadline, we received this email:

In our previous application, we had gotten into the top 10% of startups. Mind you, roughly 8.5% get interviews. That was back when we were just conceptual, so we thought turning a concept into a finished product and 10% week over week growth for 4 months made us an obvious choice..at least for an interview.
So, I sent emails to all 17 of the partners listed on the website. We received 3 responses. I should note that this was right after interview invitations went out, so probably during their busiest time of the year. I really appreciate the fact any of them took time to even read my email, let alone respond to it. That doesn't mean the responses were…inspiring.
Here's the most helpful one from Jared Friedman: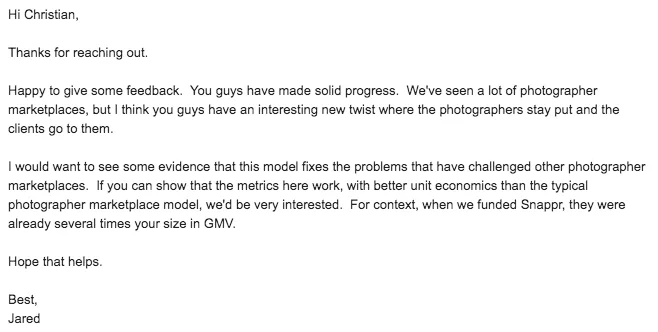 Translation: you need more money.
I understand that Y Combinator is a business and they need to place their bets where they're most likely to see a return on the investment, but it really makes me think the 10% email was bullshit. It couldn't have meant much, because we grew bigger, faster than anyone could have reasonably expected since the day that we "made it into the top 10%".
Additionally, if we continue on the trajectory set out in the application, we will have far outgrown YC's investment by the time the next application comes around. Money aside, at that growth, it would also be unreasonable for us to stay in SF for 3 months at that time.
What I've been programmed to believe is that the underlying ethos of Y Combinator is that they place small bets in great ideas with great teams, oftentimes pre-revenue. We have a great idea. We have a great team. And, we're even cashflow positive. I think we've reasonably answered all of their concerns. I'm really not a sore loser, and I don't mind getting rejected, but the combination of events: the 10% email + no interview + Jared's reasoning has soured YC for me (I'm Christian–Deborah still loves you guys).
So, we'll continue. And our target is to grow large enough that YC doesn't even make sense by the time the next application opens in October.
We have a lot of big things brewing–stay tuned.